It was April 1970, and the world was holding its collective breath. Apollo 13, the unfortunately designated third moon mission, had suffered a catastrophic accident. That the travelers on the command module Odyssey had survived the initial explosion was a wonderful stroke of luck. But now that three astronauts were hurtling away from earth in a damaged space vehicle, and the ability to turn around and go home was impossible, the real risks seemed monumental.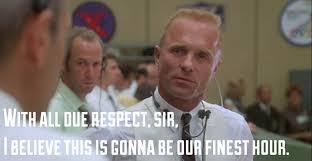 In the 1995 movie by Ron Howard, Flight Director Gene Krantz overhears two NASA directors discussing the low survival chances for the crippled spacecraft. One of them says, "This could be the worst disaster NASA has ever experienced." And Krantz's heartfelt response is, "With all due respect, sir, I believe this is going to be our finest hour."
No one enjoys "system disruptions." Given a choice, I think we all would like to avoid this kind of event. It's challenging to see positives in the midst of darkness, but this is my fifth such major incident - different kinds of scenarios but all debilitating. And every time the associates rolled up their sleeves and started digging themselves out of the hole created by the unfavorable episode. Every time there were near superhuman performances by individuals who had the skills and the patience to "eat the elephant one bite at a time," as Jim likes to say. And our current situation is no different.
The movie Apollo 13 showed the frustration and anxiety that the astronauts experienced as they waited for the team on the ground to solve the problem of getting them home. I'm sure that some of you have been feeling like this from the beginning of the incident. I know many of you are hungry for news - when is this milestone or that system restore going to be ready? You are facing angry customers and can't even tell them what is happening, partly because you don't even know. We are not much better off in IT. We can initiate processes that take hours and then fail. Sharing each painful, detailed step along the way without the ability to predict when it will be over accomplishes very little.
You may wonder why things take so long. It's hard to explain, but think of it like this: a network is built over many years, each brick being placed on top of another, by hundreds of people, until an entire organization is created. We aren't just rebuilding a few programs, we are rebuilding a city, with roadways, houses, mailboxes, traffic lights, etc. We are trying to replace in moments what took many years to construct. The dependencies, the oddball processes, the sheer volume of data, all conspire to slow down progress when trying to rebuild it. This is one reason why these scenarios are so painful because restorations are slow, tedious, and operationally disruptive. Sometimes it feels like trying to fill a swimming pool one spoonful of water at a time.
Having said all this, I want to acknowledge that the way ORR associates have responded has been astonishing and predictable, all at the same time. The help, advice, and guidance from people like Nikki Russell, Katie Gibbs, Cindy Gabbert, the entirety of the accounting department, Steve Nelson, James Redd, our regional and operations managers, and the technicians in the field has been incredible. For the most part, everyone has just accepted the challenges, provided operational solutions, and pitched in to help us get things done. Others have stood by and offered their support and encouragement, and those gestures have been very much appreciated. Overall, the response of the organization, in the face of incredibly challenging circumstances, has been phenomenal.
In his book, Failure is not an Option, Flight Director Gene Kranz said, "It isn't equipment that wins the battles; it is the quality and the determination of the people fighting for a cause in which they believe." I am so fortunate to be part of an organization that adopts our core values with enthusiasm, dedication, and even humor. Some may look at the past few days as a disaster, but I echo Krantz's observation: "With all due respect, I believe this has been our finest hour."