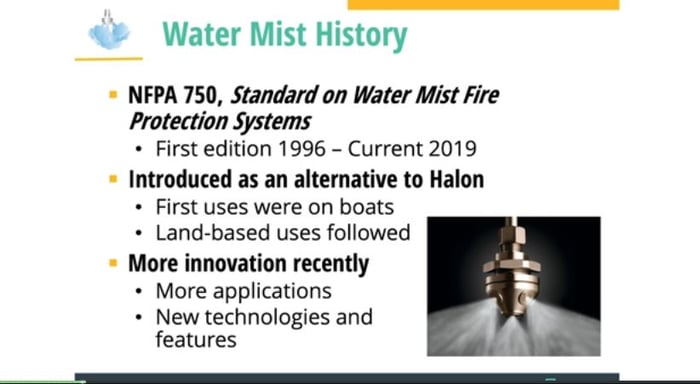 We're rounding out our 2019 webinar series with a final, highly requested topic: water mist systems. Lee Kaiser, ORR Protection's VP of Engineering, and our regional experts are back to help you understand how to better protect your people, property and the environment. Read on to see what you'll learn in this new webinar series:
What you'll learn in this webinar
We've joined forces with local experts from your region to talk about the unique things you need to consider when it comes to water mist systems in your region.
Once again, you can join us for one of eight webinars specific to your own region. They'll take place over the course of two days--6 focused regionally, as well as one for national accounts and one for power generation. There's something for everyone, no matter your specific climate, regulations or area of the country.
Don't forget! There are more year-round resources in our new Mission Critical Fire Protection resource center. You can download helpful guides, watch videos, discover best practices and keep up to date with our soon-to-be-announced 2020 MCFP conference series.
WEBINAR DetailS: WATER MIST SYSTEMS


What's it about?
This overview of water mist systems by Lee Kaiser—ORR Protection's VP of Engineering—introduces water mist technology and what applications it can be used for in mission critical fire protection. We will discuss how water mist systems are used for fire extinguishing in high challenge applications and as an alternative to conventional sprinkler systems. The session will also share what engineers need to know to begin specifying systems for their projects.
What will you get?
In this webinar series, Lee will be joined by industry experts discussing the use of water mist systems in your area.
They'll cover:
the firefighting properties of water mist

why water mist is safe to use

using water mist systems when there is a shortage of water supply

the most common uses for water mist systems
comparing water mist sprinkler systems with conventional sprinkler systems

water mist as an alternative to clean agent systems
WATCH THE REPLAY