This article was originally published on February 1st, 2018 on The Code Coach.
For the last several years I have made the nearly 2-hour pilgrimage to the closest ORR Protection Seminar that I could find. Why do I make this trip? Because the value this training provides is worth it.
These four-hour fire protection seminars are packed with useful information on fire protection and detection systems. This year's topics continued to raise the bar from previous years. The theme of this year's seminar series is Fire Protection Playbook.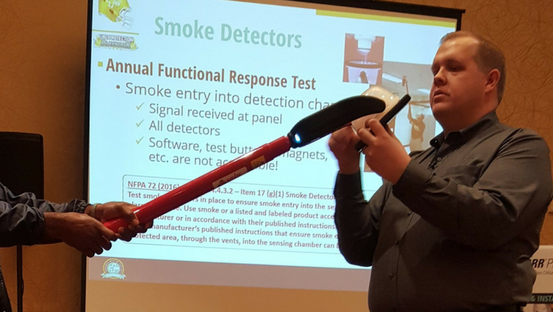 Lee Kaiser performing a demonstration at the 2018 seminar.
The #2018SeminarSeries provides a playbook to help fire protection professionals, AHJ's, and facility managers better understand the essential elements of fire protection and life safety systems. A special emphasis is placed on inspection/testing/maintenance (ITM) of these systems. Some of the systems covered include fire sprinkler systems, water mist systems, clean agent systems, fire extinguishers, air sampling, and fire alarm systems. There are opportunities for hands-on demonstrations for fire protection products and service tools. Design guidance to lower maintenance costs and improve serviceability is also provided.
At the end of the main seminar presentation is a "Q and A" panel session with the experts. Audience questions are submitted and the panel of experts provides answers and solutions to the questions posed.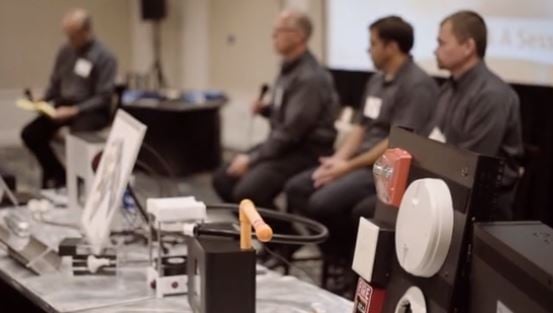 Q and A panel session during the 2017 Seminar Series.
Every ORR Protection seminar series includes a bonus session. This year's session is very timely, as it relates to the hot topic of commissioning and integrated systems testing. The presenter, Lee Kaiser, presents an overview of the commissioning process and provides an in-depth explanation of the correct sequence of operation for integrated systems testing.
If you're attending the seminar be sure to use #2018SeminarSeries and #FireProtection tags so we can all follow along!
---
About the Author

The author of more than 400 books, articles, reports, white papers, and blog posts on fire protection and life safety topics, guest author Aaron Johnson attended the first of our 2018 Seminar Series, Fire Protection Playbook: Winning Maintenance Strategies for Buildings that Don't Quit! in Orlando, FL. For more of Aaron's writing, visit The Code Coach. The Code Coach is a fire protection, life safety, and code consulting resource.