ORR Protection Systems completed another successful and educational Training with the Experts seminar series. Last year the seminar was titled, "Trending Now! #FireProtection Technologies Impacting the Future." The focus of the series was on new technologies, code changes, and new fire protection products affecting businesses.
Some of the most popular sections within the session were:
Voice fire alarm systems
Wireless fire alarm system technology
Code changes affecting dialers
Newest air sampling smoke detectors,
High pressure clean agent systems
Rack mounted fire suppression devices, and
Power generation applications for high pressure water mist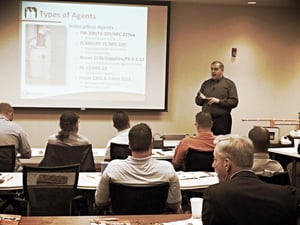 In addition to the core sections, each session wrapped up with practical information for existing buildings in the form of a bonus session titled, "The Causes and Cures for False Fire Alarms." A few people in the audience even shared their own practical stories of tough false alarm experiences.
We were able to bring this opportunity to 19 cities, from the East Coast to the West Coast, as well as the Mid-Atlantic and the Great Plains. New this year, were visits to Houston and Phoenix. In fact, the seminar series opened up two days after the NFL championship game in downtown Phoenix; which was right in the heart of the action!
We want to thank each and every one of the attendees and hosts who helped make this a record breaking year for attendance. We appreciate everyone choosing to give up their morning to join us and hope each person found something educational and useful for their profession.