Our Fire Protection seminar kicks off this week and we are more than excited to get the show on the road. This year, we will be visiting 19 different cities across the nation from January to May. If you would like to find out the specific topics that will be discussed and reserve your complimentary ticket, click here to visit our registration page.
To provide you with more insight on the seminar series, we sat down with Aaron Johnson, a seminar veteran and founder of The Code Coach, and asked him about the seminar experience and other educational opportunities.
Q: Tell us about yourself and how you got started in Fire Protection.
Aaron: "I've been in fire protection for about 11 years now. I started out at EMT and fire school, thinking I would become a firefighter. In the academy, they teach you every facet of the fire service. One of the things we talked about was the fire prevention and inspection side of things.
From my academy time, I knew there were two things I wanted to pursue in my career. The first was fire prevention, which is where I am now with the codes, systems, and standards side of things. I also wanted to be involved in ARFF, which is Aircraft Rescue and Fire Fighting. My first job out of the academy was with an ARFF department where I worked for two years. During that time, I took all the training I needed to become a certified fire inspector. I worked as an inspector at a municipal fire department for 5 years, then I when back as a fire marshall to the ARFF department where I started my career."
Q: What is The Code Coach?
Aaron: "The Code Coach started as a blogging experiment about 8 years ago. I have an interest in writing and mainly kept it going because I found out it was a valuable resource for people in the fire protection/life safety field. There aren't a lot of resources out there that give you a lot of information on standards, codes, and other things happening in fire protection. Through The Code Coach, I provide free information and resources. A cool thing about it is that it has allowed me to connect with people from around the world."
Q: What topics do you find need the most clarification by experts?
Aaron: "Many people want and need code interpretations. Their questions are either "How do you do this?" or "What is the intent of the code really saying?" Depending on the municipal inspector, there many different interpretations. If you have 100 inspectors in a room and give them one code to interpret, you'll probably get 100 different interpretations back.
Another topic of interest that I'll be writing a lot about this year is staffing and how to determine your fire prevention staffing levels needs. A lot of departments struggle with budgeting and what their staffing levels should be."
Q: Which seminars have you been to in the past?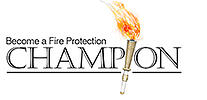 Aaron: "The first one I went to was the Becoming a Fire Protection Champion Seminar in 2014. I had planned to go to others the past couple of years but had things come up that prevented me. I've also run into Lee Kaiser, the seminar presenter, at different conferences and during a few webinars."
Q: Do you go to any other Fire Protection events?
Aaron: "I go to the NFPA conference frequently and plan on going this year. I also speak at a lot of events since I enjoy teaching. Every year I go to the ARFF Working Group Conference, an organization for aircraft rescue firefighters. We have a lot of Continuing Education Requirements in Florida so I also attend a lot of local training courses and classes."
Q: What made you decide to go to your first seminar?
Aaron: "There are three things I look for when attending a fire protection event:
1. What is the topic that will be discussed?
2. Who's teaching it and what's their background?
3. Where is it at? Is it a cool and fun place or local and close?
The first one I went to met all of my criteria. At the time we were looking at getting a VESDA system and I saw there was a bonus session on it. So I was interested in learning about that. It met my expectations in getting an overview of Inspection, Testing, and Maintenence requirements as well as the VESDA systems. Lee has a fire service and a fire protection engineer background, and when he teaches it resonates with me. He teaches at a level that anyone can understand and I was provided with 4 to 5 hours of quality training."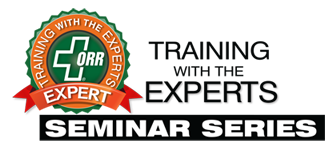 Q: In terms of networking and overall experience, what were seminars like in the past?
Aaron: "They're great to meet people in the industry. Lee sticks out in my mind. I first met him 3 years ago at the 2014 seminar and we've been able to stay in touch ever since. It's always good to talk to him if we run into each other somewhere and we even share posts and tweets with each other on social media. It's nice to have lasting relationships in the industry, more than exchanging business cards and it ending there."
Q: What type of technology are you most excited to discuss at this year's seminar?
Aaron: "Water mist systems and carbon dioxide systems. Last year I sat on the International Fire Code Development Committee. There were a few code change proposals that came up regarding water mist systems. From my perspective in the AHJ and aviation field, water mist systems seem like they have a lot of practical applications for what we do. If you read through the standards that apply to it, it seems that it's a great system for what it does and what it's built to do.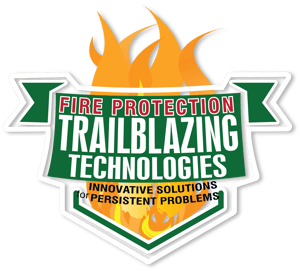 But there was a lot of pushback about them at the code council. I have friends that sit on the National Fire Sprinkler Association so I was able to discuss with them a little about their perspective. Overall I'm really interested in learning about the pros and cons of water mist systems and how we can apply them to our site and facility."
Q: Who do you suggest attends a seminar?
Aaron: "I've invited all our officers and told them to tell their people at the fire departments, so I think it's very valuable for fire service personnel. I think it has great application for facility managers as well. Like I said before, Lee teaches at a level that anyone can understand so it's worth attending if you need more clarification on a certain topic or fire protection as a whole.
Overall, it's one of the most valuable things I can go to, especially since you get complimentary tickets, it's local to where you are, and you receive quality training."
Thank you Aaron for taking them time to talk with us about our Seminar Series. If you have not already, be sure to visit The Code Coach blog for fire protection and prevention articles, in-depth guides, and other code explanation discussions. Lastly, there is still time to register for a seminar near you. Click the button below to view all locations and dates and register to receive your complimentary ticket!