ORR Protection Systems is excited to launch its new Fire Protection Blog to provide you with relevant information, real-time updates, NFPA Code changes and other important events taking place in the Fire Protection industry. It is our hope and desire that this blog becomes a reliable source for looking into that crystal ball of future trends and understanding the past.
Additionally, we also want to make it easy for you to connect with us through a variety of different channels like social media (LinkedIn, Twitter, Facebook, YouTube), online contact forms, email, and more.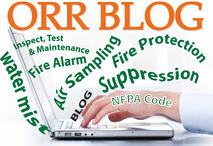 Here's what you can expect:
Regular blog posts keeping you informed of "what's happening" at

ORR

along with other relevant industry-related news.
All the details on Fire Protection Educational Seminars, Lunch & Learn Programs and other industry educational opportunities.
Videos, interviews, and other media that will help you get to know

ORR

on a more personal level.
Other ways to connect with

ORR

online through links to our social media accounts.
The opportunity to be become a subscriber and receive announcements, seminar updates or an

RSS

feed of our regular blog posts.
Easy-to-navigate pages and links to fire protection vendors.
More online content for education and informational purposes.
Thanks for checking out our new blog. If you have questions or if there's a certain topic you would like to see covered on our blog, you can submit a comment using our online form. Let us know what you think!