ORR Protection is excited to announce a brand new, state-of-the-art website launching at the end of September! Watch the video below as Lee Kaiser, ORR's VP of Engineering, gives a brief introduction on the new site:
ORR continues to grow and expand operations around the country, providing mission critical fire protection for any given industry. As we grow, we're committed to continuing to lead the fire protection industry as the foremost experts on detection, notification, and suppression technology.
The new website will allow us to continue to share our fire protection knowledge, foster educational growth, and provide users with the product, code, and application specific information they need to keep their facility safe.
Resources for Fire Protection Professionals
For the last 5+ years, our fire protection blog has provided individuals across the industry with the latest news, code requirements, and solutions to the most common problems. The new site builds upon the wealth of knowledge and resources already available to the community and makes this information more accessible and easier to digest. Visitors will be able to easily find the answers to their fire protection questions and easily access the resources that matter.

The new Fire Protection Hub is an indispensable portal for fire protection professionals. From technology news to answers to frequently asked questions, to data sheets and code requirements, the Hub is the place to learn, gather intel, and approach any given fire protection problem.
Designed for the User
The refreshed design shortens the time it takes to find the information you need, enhancing overall user experience without hampering ease-of-use. The site will still feature in-depth specs, attributes, and descriptions for our products, as well as the different applications and the ORR-approved recommendation for each. The information will be displayed on easy-to-digest informational pages.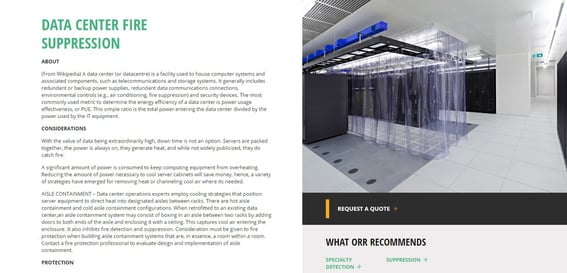 The site will also provide high-quality images of products and make it easy to reach out for more information.
Coming September 2017!
Thank you to all of our customers for giving us feedback and direction in developing this new site. Your commitment to the fire protection community does not go unnoticed. We are proud to be your fire protection provider and committed to continuing to provide the best experience possible.
Stay tuned for more information regarding the launch of the new ORR Protection site!