ORR Protection continues to grow its service footprint by expanding into our newest location, Las Vegas, Nevada. Since 2007, ORR's west coast presence has grown beyond our expectation from Southern California, then in 2009 to Northern California and now to Nevada in 2012.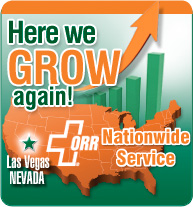 Randy Hardman, VP of the West Coast Region, was recently quoted saying, "ORR's national customers have pushed us to expand our services to Nevada for nearly two years, but before we made the move, we felt we needed to walk before we could run. That required for us to make sure we had the right people in place with the support they need to ensure our customers received the quality of service and response times they have grown accustom to expect from ORR. I have been in the "Mission Critical Fire Protection Industry" for over 25 years and the last 5 years with ORR, but since coming to ORR, I have been amazed at the professionalism and technical knowledge they expect from their technicians. Simply put, that is why we delayed our move to Nevada. We believe, our patience to find the right experience technicians will prove to be our winning formula moving forward. So from all of us on the West Coast, we are truly excited about our move to Nevada, Here we GROW again!"
Fire Alarm, Detection, and/or Suppression System design, installation, emergency service or test and inspection services are just a phone call away for our newest Nevada location.
Phone: (877) 265-9705
e-Mail: lasvegas@orrprotection.com