Editor's note: This article was originally published 2015 and the picture shown is not from the actual event.
A fire erupted in the early hours of April 3, 2015 at General Electric's Appliance Park in Louisville, Kentucky. Fire investigators have reported that the cause of this fire, while "undetermined," it was likely that the spark was created by an electrical short or from lightning seen in the area earlier that day. In addition, they blamed outdated fire protection systems for allowing the fire to continue growing exponentially. No one was injured in the fire that required about 200 firefighters to initially show up. It took crews about 3 days to finnish putting out all the remnants of the blaze.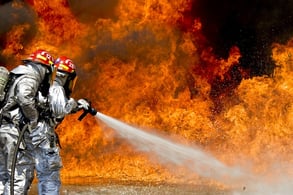 Neither the Kentucky Department of Environmental Protection nor the USEPA found any toxic chemicals related to the fire. Which, considering the amount of plastics that are stored in the building, is extraordinarily fortunate.
One thing that is most unfortunate is the low water pressure on the premises, which GE has been working on for the last few months. Low water pressure coupled by the fact that firefighters are unable to get into the building are delaying the fire's demise.
General Electric's Appliance Park is a 1,000 acre manufacturing facility that at its peak employed 25,000 full-time employees. It is so large that it has its own zip code. The fire was exclusive to only one building on the campus, but the entire Appliance Park will shut down for at least a week to ensure that none of the other buildings suffered any damage.
The affected building was Building 6; it was mostly used for storage of appliance parts and some offices. Everyone was evacuated safely, but the building is expected to be a total loss. The cause of the fire is under investigation.
To learn more about Fire Protection at your facility, schedule a lunch and learn to have a free educational session with ORR Protection Systems.