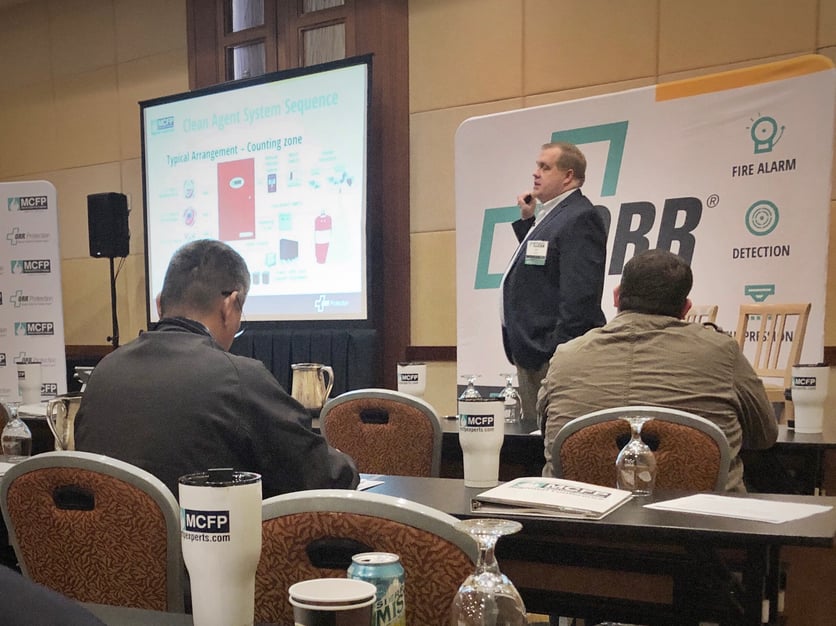 We're incredibly grateful for a strong year of 2019 MCFP regional conferences, especially after the face-lift our format received this year. There's just 1 more chance to register for our last city of the year: Chicago! If you've had questions about the content, what to expect, cost and benefits or even a video sneak peek, keep reading.
Register for the upcoming conference in CHICAGO ON September 5

WhO Should Attend?
Anyone responsible for the fire protection of mission critical facilities.
Managers, facility directors and maintenance professionals who make fire protection decisions will all benefit from MCFP. Architects, engineers, designers, contractors, estimators, risk managers, AHJs, building inspectors, plan examiners and fire marshals can also get great ideas and networking opportunities.
What Can I Expect from the Conference Experience?
This year, ORR Protection is expanding our annual seminar series into a full-day event for 2019—the Mission Critical Fire Protection Regional Conference.
In this new format, ORR will partner with experts from Fike, Xtralis and Notifier to bring you the latest in all-things Mission Critical. In addition, a local expert will speak on topics appropriate to the Great Lakes region, specifically, and there will be extensive time to talk and network as the experts walk you through your personal fire protection strategy.
That's right--in addition to the industry leaders traveling around the country, you'll be able to network with local professionals who can give you the most relevant advice on what you really need to know about keeping your people and facilities safe.
Customized Regional Content
While all of our conference locations received an in-depth understanding of Clean Agent Systems from ORR's VP of Engineering, Lee Kaiser, the Chicago area will also get to hear about how the concept applies to the industries, codes and even weather patterns around you.

For example, our Southern California conference in Los Angeles learned about best practices for data centers and pharmaceutical warehouses as specific instances of how to apply fire protection risk and recovery methods in these common regional industries.
More Focused Regions for Greater Impact
While we loved getting to see as much of the country as possible during our previous years' city-focused seminar series, we saw a high demand for more in-depth seminars spanning more than a few hours. You asked, we listened--and now you can experience a full-day of Mission Critical conversations and networking with our region-focused approach in Chicago.
Year-Long Regional Resources Available Online
In addition to joining us in-person, you can now also access the MCFP materials from anywhere with the launch of our new resource center. You can see the webinar recordings, search for events based on your location and get the latest new blog posts to your email by browsing there.
WATCH THE VIDEO BELOW FOR A TRUE VIEW OF THE MCFP EVENT:
What Does the Conference Cost, and what are the benefits I'll get?
Your $100 ticket Includes all of the below:
Expanded offerings, including partner manufacturers and local experts

Full-day training conference including a keynote presentation from Lee Kaiser

Buffet lunch served

The option to receive 6 PDH development hours for attending

One-on-one networking with industry experts

Hands-on product demonstrations

Raffle to win a Seek Thermal Compact Imager for Apple or Android mobile products

Get free admission through our government officials grant program.
We've also launched a grant program to welcome in more government officials who are interested in attending one of our regional conferences. If you have an official .gov email address, you qualify for a free ticket to any one of these events. You can see the details and request your free admission here.
We'll double-check your eligibility and alert you when you're ready to finish your event registration with a code for the free admission.
What is the conference keynote?
A Glimpse inside: Minimize Fire Risk, Maximize Recovery
Below are a few examples of the types of facilities that will benefit from the information in this conference:
Buildings that house the world's digital infrastructure, including data processing and telecommunications
Energy facilities - those in use today and future ones supporting renewable energy and the smart grid
Manufacturing and industrial facilities
Businesses and institutions containing high value and irreplaceable assets
Critical Infrastructure buildings where fire damage impacts large amounts of people
The keynote (and entire day for that matter) will be jam packed with new and timely education, presentations, and one-on-one networking with fire protection experts.

2019 Chicago MCFP DATE, LOCATION and Registration Details