We are excited to announce that registration for our 2018 Seminar Series: Fire Protection Playbook is now open! Led by ORR VP of Engineering, Lee Kaiser, this annual seminar series will make its way to twenty cities across the nation in 2018. Participants from all industries are welcome to attend the 4-hour long educational training session led by ORR's team of experts. Every complimentary ticket includes a delicious breakfast, the fire protection course with a bonus session, and networking with other fire protection professionals. Visit our events page to find a seminar near you!
Fire Protection Playbook
Buildings today often consist of a vast array of important technologies and the loss of productivity due to fire system false alarms or loss of assets due to fire is unacceptable. This is why it is imperative that every company appoint a Fire Protection MVP who is armed with a comprehensive maintenance playbook to protect critical assets and know how to keep their systems in working order. If you want or need to be the Fire Protection MVP for your organization, this seminar is for you.

What you will learn
This seminar provides a playbook to help you understand the essential elements of your Life Safety Fire Systems, the current NFPA code changes, and the requirements for Inspection, Testing & Maintenance to keep your facilities in compliance. For architects and engineers, we will also discuss system design tips for lowering maintenance cost and improving serviceability.
Learn the key elements for Inspection, Testing and Maintenance of Sprinkler, Fire Alarm & Suppression Systems.

Discover how to avoid the biggest fire system design problems that can cause maintenance nightmares for facility managers.
Learn how to react properly to fire panel alarms, supervisory and trouble signals.
Learn what the NFPA Code requires for building compliance.
Bonus Session!
Commissioning Fire Suppression Systems and Sequence of Operations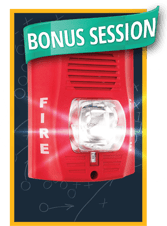 Successful suppression system installations depend on all the players working together. With recent NFPA Code changes regarding NFPA 3 and NFPA 4, along with the upcoming NFPA 2001 changes regarding Commissioning, this is a session you don't want to miss.
In this bonus session, our experts will demonstrate several common operating sequences of fire suppression systems and explain the reasons for each step. Design professionals will want to see how each one of these sequences plays-out ensuring their newly designed systems are specified correctly.
Who Should Attend
Anyone who is responsible for critical fire protection decisions.
Managers, facility directors and maintenance personnel who make fire protection decisions

Architects, engineers, designers, contractors, estimators, risk managers, AHJs, building inspectors, plan examiners, and fire marshals
Dates and Locations
The seminar series will visit 20 cities across the nation in 2018. Click any of the cities below to visit that location's registration page.
Check-in Time and Hot Breakfast
7:30 A.M. - 8:00 A.M. for all seminars listed!**

Seminar Time for all seminars listed:**
8:00 A.M. - 12:00 NOON
**New York seminar check-in is from 9:30 A.M. - 10:00 A.M, includes lunch instead of breakfast, and goes from 10:00 A.M. until 2:00 P.M.
The 2018 Seminar Series starts in late January and goes through late May. After finding the location nearest you, register now to reserve your complimentary tickets before it's too late! We can't wait to see you at a seminar!