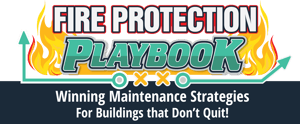 As a complement to our 2018 seminar series, Fire Protection Playbook: Winning Maintenance Strategies for Buildings that Don't Quit, ORR Protection is hosting a summer webinar series covering ITM and new code topics. These webinars are free of charge and can be attended from the comfort of your home, work, or favorite coffee shop.
Lee Kaiser, ORR Protection's VP of Engineering and the Chairman of NFPA 75, is our webinar host and presenter. Lee is a leading expert in the fire protection industry as well as in NFPA code. He has served as a volunteer firefighter for 21 years, and is a mentor to many in fire protection.


All are welcome to attend these free webinars and we encourage you to share the information with others who may be interested. To register, click any of the "Register Now" buttons below, visit our webinar registration page, and select which webinars you would like to attend. Attend one, two, or all three; it's up to you!

The three part series will cover a variety of topics on the following dates:
ITM Basics & Fire Alarm System ITM
Thursday, August 16, 2 – 3 pm EST
This session will cover basic concepts about delivering fire protection system inspection, testing, and maintenance, some important terms, and what to do when something is found wrong. The second part of this webinar will use the new knowledge and apply it to specifics of fire alarm system ITM.

ITM Fundamentals of Clean Agents, Sprinklers, Extinguishers, and Exit Lights
Thursday, August 23, 2 – 3 pm EST
This session builds upon session one following up with primary concepts for ITM of clean agent systems, fire sprinkler systems, fire extinguishers, and emergency lights and exit signs. The sprinkler portion covers the most commonly performed tasks in that discipline.

New Code for Commissioning Fire Suppression Systems & Understanding Sequences of Operations
Thursday, August 30, 2 – 3 pm EST
In this session we break from ITM topics and discuss how common fire suppression systems operate with respect to the sequence it takes to discharge them. New information about NFPA 4 and fire and life safety system integrated testing will be shared. Integrated testing opportunities will be outlined for each suppression system.