Computing needs are exponentially increasing the demand for cooling power in data centers. Many existing data centers are faced with outdated cooling infrastructures and are turning to aisle containment systems to increase cooling efficiency.
If you have moved your data center to an aisle containment design, or you are in the process of implementation, have you considered how it will affect your fire protection system? If you haven't, you might have a problem… and it may be bigger than you think!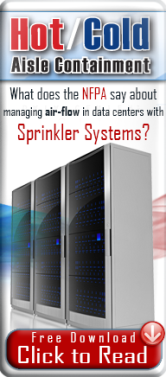 The mission critical fire protection experts at ORR Protection Systems have developed a free downloadable guide to explain how aisle containment may affect sprinkler systems. This guide will cover several things you need to know to make sure you are fully protected and within code requirements.
Learn about obstructions to sprinkler discharge.

What are the concerns with automatic obstruction removal?

Are fusible links permitted?
Find out what you need to know!