Are you ready for 2020? We're excited to announce the 2020 Mission Critical Fire Protection conference series. Read on to see what's changed, what you can expect from your conference experience and how you can reserve your spot before the conference sells out.

Due to the COVID-19 outbreak we made the decision to postpone the remainder of our in-person MCFP Conferences for the year. Check back on this post in the coming weeks to get details on how you can still be involved via our virtual MCFP Conference.

Your Full-Day Conference Experience
We're thrilled to bring another year of full-day events in 2020 for our Mission Critical Fire Protection Conference.
We'll have local experts speak to the specific MCFP initiatives you need to know in your region of the country. After the presentations industry experts will be on-site to answer any questions about your personal fire protection strategy or any equipment used in your mission critical system.
Throughout the day there will be plenty of opportunities to network with local professionals who can help you identify what you really need to know about keeping your people and facilities safe.
Once again, our grant program will be available to government officials who are interested in attending any of the 2020 MCFP conferences. If you have an official .gov email address, you may qualify for a free ticket to any one of these events. Click here to see the full details and request your free admission.
What Content will we cover?
All of our conference locations in 2020 will get an in-depth keynote from ORR's VP of Engineering, Lee Kaiser. Each city will hear about region specific concepts that directly applies to their industry, codes and even weather patterns.

Last year, our Southern California conference in Los Angeles learned best practices for data centers and pharmaceutical warehouses and how to apply fire protection risk and recovery methods in these common regional applications.
2020 Conference Agenda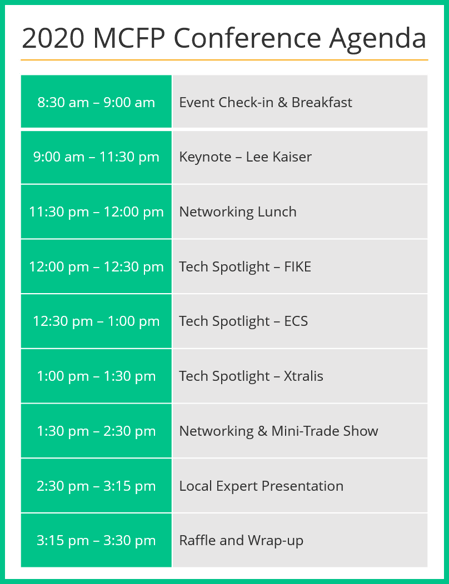 Regional Resources Always Available to You Online for Free
If you are unable to join us in-person--or if you'd like to jumpstart your learning now--you can now also access the MCFP materials from anywhere with the launch of our resource center. You'll be able to see our recent webinar recordings, search for events based on your location and get the latest new blog posts to your email.