If you think it might be handy to have a quick reference guide to the NFPA, Fire Protection Systems: Inspection, Test & Maintenance Manual, you are not alone. ORR Protection Systems has put together an easy to reference, quick guide to give a clear timeline (e.g. weekly, monthly, quarterly, annually) of requirements for functional testing and visual inspection.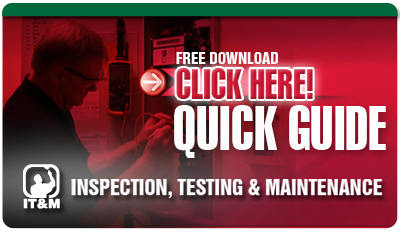 The purpose is to help make it easier to recognize and be compliant with what the NFPA says about the inspection, testing and maintenance of:
Clean Agent Fire Suppression Systems
Sprinkler Systems
Fire Alarm Systems
Fire Extinguishers
Hood Suppression Systems
Fire Pumps
Emergency Lights
Exit Signs
In this guide we reference several NFPA documents to cover a broad picture of what it takes to comply with fire protection codes and standards.
We reference:
NFPA 101
NFPA 25
NFPA 2001
NFPA 17A
NFPA 96
NFPA 72
NFPA 10
NFPA 17
Please keep in mind this is not designed to replace any NFPA code or standard, and there may be other jurisdictional requirements to consider.
To download our quick reference guide click the image above.